Access control in the office.
Today we will tell you about security systems based on the Z-Wave protocol. And specifically about automatic locking devices. There are many devices on the market today from different companies and different price segments. However, if your goal is first of all to create a unified access control system for your home or office, I suggest considering the following device.
Vision Castle
Vision Castle Features:
Ability to open Z-Wave with a command (AES128 encryption), using a codepad and a regular key
If opened with a key or latch, reports its open/closed state to the controller
Reports the number of the code that opened the door to the controller
Keep an event log. If you entered the code incorrectly, you will know about it
13 codes
Works on 4xAA batteries for up to a year (depending on how often the lock is used)
The disadvantage is, perhaps, the lack of the ability to work with cards, but each employee can generate a personal code, which will be the login identifier. As long as the company is small, this will not be a problem.
Included with other devices such as:
Window/door sensor
Autonomous siren
IP camera (or motion sensor)
Gsm module (built into the controller or separate) Any mobile phone can be used.
Of which we wrote earlier, we can provide control over access to the premises without resorting to the services of installation organizations. The heart of the system can be any controller that supports Z-Wave, such as Vera Lite or RaZberry. Many sensors run on batteries, and a small tablet battery will suffice for smooth operation of the controller. In this case, the system will not turn off even if the electricity goes out
Basic Features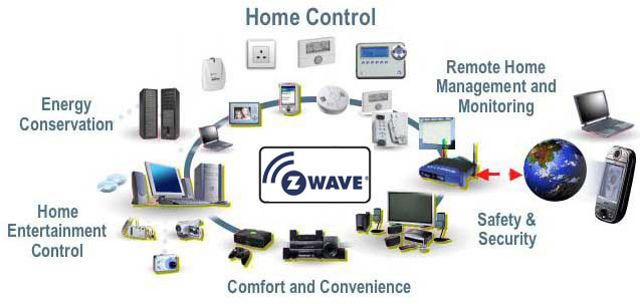 The system allows the following scenarios
Employee access control
Issue temporary access codes for cleaning lady or company guests.
Remote opening with smartphone
Auto Arming
Alarm for an unlocked door.
Power outage alarm.
Cost.
Given today's prices, this set would not be considered very cheap. Just put a siren lock and the controller will cost about 5000 eu. If you already have a Z-Wave controller, then this amount will decrease by 30%. Camera and Gsm module will add another 2000eu. On the other hand, you can save on installation, and companies that can provide you with such access rarely work for amounts less than 50 tousand euros.