Regarding Zwave equipment
We have already examined the ZWAVE equipment in sufficient detail below, you can familiarize yourself with the basic methods of automation using these controllers and find out approximate prices. Product prices are highly dependent on the euro exchange rate, so for clarification, please call the website and find out the exact information.

The system on Zwave. star system. Sensors are integrated into a common network / each device has its own. Logic.
Pros:
Controllers have different costs. Starting from 5000еu (Homemade controller based on Raspbery PI with Zwave chip.
Large device peripherals. Various thermostats, humidity sensors
Wireless interface. (the controller itself, however, must be connected to the central router. By wire.)
The cost of a solution for a specific case (controller + leak + smoke + security camera can cost much less depending on the required functionality.
Weaknesses:
The price is pegged to the euro exchange rate. (most likely the cost will increase)
Some interoperability issues with devices from different manufacturers. It is necessary to study the specific specification before ordering the equipment.
General system immunity
General network vulnerability. ( Valid for any network that has the ability to remote control.
Very limited number of supported IP cameras.
Views of Controllers.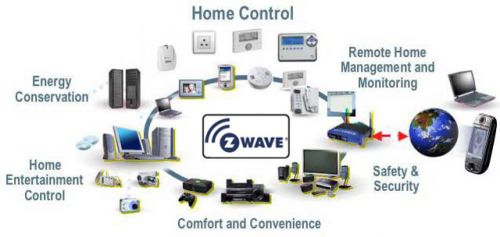 PP

RazzpberyPI

(Controller+board Zwave

Z-Wave Controller Vera Lite

Z-wave controller Zipabox

Fibaro Home Center Lite

Fibaro Home Center 2

Z-Wave Controller Vera 3

Price EU.

800

1300

1900

2600

4400

1700

Add. Modules

YES but subject to programming

No

Yes ( gsm module and additional battery)

GSM and battery.

The battery is built into the system. GSM no

No

List of supported devices

When a new device appears, you have to wait for the release of drivers for it under Linux. Then program the controller itself.

Almost complete.

Almost complete.

There are problems connecting third-party devices

There are problems connecting third-party devices

Almost complete.

Architecture

Debian(Linux)+ARM

Linux+ARM

Linux+ARM

Linux+ARM

Linux+X86

Linux+ARM

Using as a router

no

None (no modules)

no

no

yes

yes

GSM

no

( with additional module)

no

no

yes

yes

Internet control

Yes (programming required)

yes

yes

yes

yes

yes

Data backup

no

no

no

no

yes

yes

Home theater function

no

no

no

no

yes

no

Maximum recommended number of devices per controller.

10

20

20

20

40

30

Easy setting from 1 to 5 ( 1 minimum 5 maximum)

1

3

2

4( 5 for Fibaro devices)

4( 5 for Fibaro devices)

3
Work scenarios.
Shades and blinds control
Integrated control relay for curtains, blinds, etc. Designed for installation in an in-wall wiring box under a traditional switch. (requires space) or in concealed mounting locations. The relay controls the load on the blinds motor. Can be included in a common Z-Wave network and controlled from other devices. Allows you to control any motorized lifting / lowering devices. (doors? garage, attic sliding curtains, etc.) The average cost of one drive is 4000 rubles.
The system works great with controllers of all types (with fibaro it connects automatically; others may need to be configured)
Works with automation from (BOFU, Somfy, Trietex, G-Rail, raex)
Remote control of electrical appliances (smart sockets)
Represented by overlays for existing sockets (it was not possible to find those mounted in sockets.
They allow you to remotely enable / disable a consumer group, combine them into groups. Turn off by a signal from other sensors, time of day, timer, etc.)
Price from 500 EU. For 1 device.
Security system
| | |
| --- | --- |
| Fibaro leakage sensor | 680 |
| Everspring Smoke Detector | 600 |
| Eversrping Presence Sensor | 450 |
| Everspirng Door/Window Sensor | 480 |
| Ip camera Foscm | 510 |
| Total | 2520 |
Calculation example for one room. If there is no need for any sensors, the system can be configured without them.
It must be remembered that devices run on batteries (batteries that need to be changed periodically. Devices are characterized by low power consumption,
Light control
With Zwave you can control the lighting. With the help of relay modules mounted behind the sockets. The system supports dimmable lighting and RGWB control (color LEDs). Scenarios can be set. The control module has four analog inputs, allowing you to connect any sensors operating in the 0-10V range, including light sensors, wind sensors, pressure and humidity sensors.
The cost of one module is about 600 EU.
Home air conditioner control.
Remote ZXT-120 is a Z-Wave to IR radio converter for air conditioners and is 100% compatible with Z-Wave devices (such as home gateways, portable controllers). Remotec ZXT-120 has a built-in temperature sensor, the value of which can be transferred to the Z-Wave network. The choice of the IR code for controlling the air conditioner is carried out by a configuration parameter from the library built into the expander. The cost of this sensor is about 400eu.
The IR code base of the following manufacturers is already preinstalled in the device: ACURA, Apton, AUX, Carrier, Chang Hong, Chigo, Chunlan, Daikin, Fujitsu, Galanz, General, Gree, HAIER, Hisene, HITACHI, Kang Li, Kelong, Kelvinator , Kolin, Konka, LG, Midea, Midea_Toshiba, MITSUBISHI, NEC, Panasonic, Panda, Philco, Samsung, Sanyo, SHARP, Shinco, Siemens, TCL, Toshiba, Trane, VOLTAS, YORK.
Heating control (thermostats)
The thermostat for the water valve allows you to control the temperature in a room heated by water radiators.
Four modes are supported:
Normal mode
Energy saving mode
Frost protection (off)
Direct valve position control mode. The thermostat has no buttons except for one service button, mode switching and temperature change are carried out via Z-Wave using the controller.
The device has an algorithm for temporarily turning off heating when a window is opened. After 5 minutes, the thermostat returns to the usual temperature control pattern. The cost of the solution is from 500 eu for one battery.
How easy it is to calculate the equipment, for example, a 3-room apartment can do. (take max functionality)
| | | |
| --- | --- | --- |
| Device | Quantity | Cost |
| Vera 3 Controller | 1 | 1700 |
| Light relay | 3 | (600*3)=1600 |
| Relay RGWB | 1 | 600 |
| Fibaro leak sensor | 1 | 680 |
| Everspring Smoke Detector | 1 | 600 |
| Eversrping Presence Sensor | 1 | 450 |
| Door/Window Opening Sensor Everspirng | 4 | 480*4=1920 |
| Ip camera Foscm | 2 | 620*2=1240 |
| Air conditioner controller | 2 | 600*2=1200 |
| Thermostat | 4 | 700*4=2800 |
| Blinds Controller | 4 | 600*4=2400 |
| | Total: | 15270 |
As you can see, the solution is quite inexpensive for complex management. The cost of installation work (if you do not need to pull the wiring, for example, to control the blinds, you can estimate at 15-20 . + 5 . setting up the router and controller.
Total 17770 eu.
Product line
Base

Medium

Premium

Description

Price EU

Description

Price EU

Description

Price EU

Basic set

Razzpberry PI

(Controller+Zwave board)

Light control module 1 pc

Smart socket 1 pc

Motion sensor 1 pc

Standard interface

2600

Light+

Z-wave controller Zipabox

2pcs lighting module

1pcs dimmer control module

Roller shutter control module 1pc

Custom Interface

5100

Complex1

Fibaro Home Center Lite

Light+climate

9100

Light

Z-Wave Controller Vera Lite

Light module

Module LED

Standard interface

3400

Climate+

Z-wave controller Zipabox

Heat floor module 1pc

Air conditioning control module 2pcs

Custom Interface

4500

Complex2

Fibaro Home Center Lite

Light+climate+Household appliances

12200

Climate

Z-Wave Controller Vera Lite

A/C control module 1pc Standard interface

3400

Security+

Z-wave controller Zipabox Leak sensor 1pc

Smoke Sensor 2pcs

IP camera 2pcs

Custom Interface

6700

Complex 3 Fibaro Home Center 2 Light+Climate+Household appliances+Security

15000

Security

Z-Wave Controller Vera Lite

Leak sensor 1pc

Smoke Sensor 1pc Standard Interface

3100

Device control+ Z-wave controller Zipabox

3 socket control controller

Programmable system

Custom Interface

3900

All Inclusive Fibaro Home Center 2

Light+Climate+Household appliances+Security

+Multimedia

16700

Instrument control

Z-Wave Controller VeraLite

Socket controller 1pc

Standard interface

2700

Multimedia

Zwave controller. +Remote playback speakers

2700