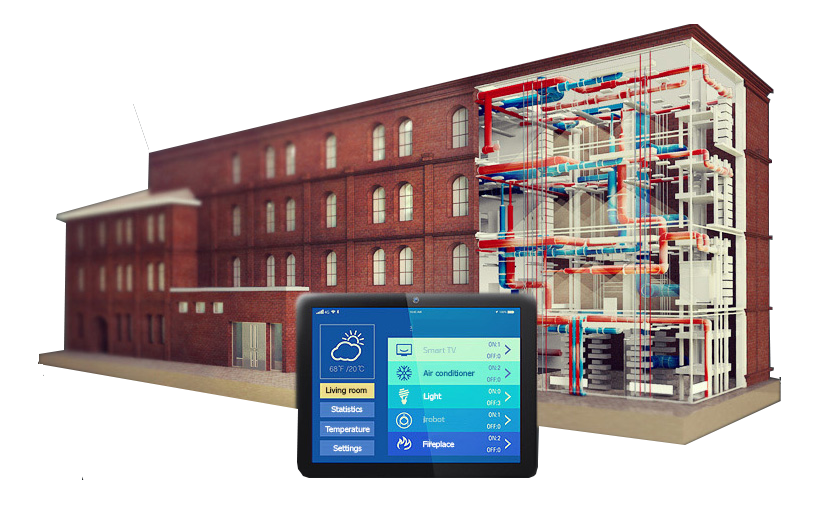 Do you want to improve the standard of living and make it as comfortable as possible? Contact the company «E-Building» and order the "smart home" system turnkey in Moscow. We develop individual solutions for each facility, supply all the necessary equipment and guarantee high network efficiency.
Of course, home automation work will cost more than installing a standard electrical control system. However, once you start using the network, you will be convinced of its indisputable advantages! You can order a minimum number of smart devices and provide for further expansion of capabilities. But after a short period of time, you will want to make the most of all the functionality of intelligent control.
The main feature of turnkey home automation is the coordinated operation of all appliances and communications. Therefore, the air conditioner will not turn on if a window is open in the room, the light will not turn on in an empty room, the appliance will turn off on its own after a specified period of time.
Savings with smart devices
An individually designed control scheme for all systems of the facility will help to significantly save on utility bills for:
electricity — up to 30–40%;
water — about 40%;
heating — up to 50%.
The cost of equipment operation is also significantly reduced. For each device, you need to install smart home controllers, combine them into one control module and set operating parameters. The system will redistribute the surplus arising from the operation of one type of equipment for the performance of tasks by other devices. For example, excess heat from the operation of the boiler will be used to protect the roof from icing; water, after cleaning, is used for watering plants, etc.
Prices for utility bills are also reduced due to the automatic work of controllers on the intensity of operation of engineering networks. At the same time, the user can remotely control the house manually. A smart apartment or cottage consumes electricity rationally, it turns on only when necessary, when entering a room, stairs, etc.
The main advantages of an autonomous home
In addition to the complex organization of control over the life support of the facility, our engineers will prepare a project for an independent supply of electricity. Autonomous power supply will turn on unnoticed by users during peak network loads or in the event of a power outage.
The main advantages of a smart home or apartment:
security;
notification of all changes;
remote home control from anywhere in the world;
the ability to expand functionality;
full automation of all processes.
Contact the contact number to a company representative to get detailed advice on installing equipment to create a "smart home" turnkey in Moscow. Take advantage of many years of experience of specialists and a competitive price!